Lake Erie
---
This is the southern most and smallest lake of the five. Having the lowest visibility there are several pleasant tradeoffs: The lake is shallow and very warm allowing long dive times. Exposure suits may become optional by July and August in some areas. There are some unusually large concentrations of shipwrecks.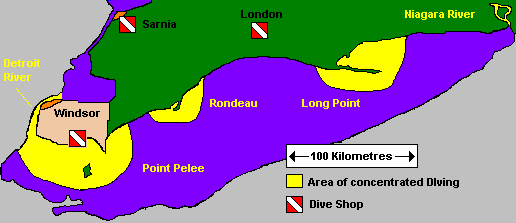 Between the entrances to the lake and the sandspits five areas of concentrated diving are found:
An invasion of Zebra Mussels in recent years has severely damaged the lakes ecosystem. The wrecks are now buried deep in their encrustations, making them resemble the coral encrusted wrecks of the ocean. The only benifit to divers these creatures have provided is to clarify the water and solidy into solid structures most of the fishing nets stuck on many wrecks.
The concentrations of shipwrecks are located around the three significant sandspits of Ontario. These areas of stunning natural beauty also provide the grave markers for hundreds of ships who found the narrow passages around them impossible to negotiate during storms.
The Ministry of Tourism regional divisions sever Lake Erie in half. The Windsor-Sarnia-Long Point axis defines Region1: SouthWestern Ontario. From Long Point to Niagara Falls the lake falls in Region2: Festival Country.
SITE INDEX: [MAIN MENU] [MAP INDEX] [QUICK INDEX] [American Visitors] [World Wide Visitors] [Canadian Visitors] [Help]
© M. Colautti 1996-1999, 2000>
Visit the new national site CanExplore
---
ontario scuba diving lake erie ontario scuba diving lake erie ontario scuba diving lake erie ontario scuba diving lake erie ontario scuba diving lake erie ontario scuba diving lake erie ontario scuba diving lake erie