North America
---
Ontario shares border crossings with Minnesota, Michigan, and Ohio. Ohio and Pennyslvania share water access to Ontario that accounts for some entry from these states. Ferry entry from Ohio into Ontario is possible.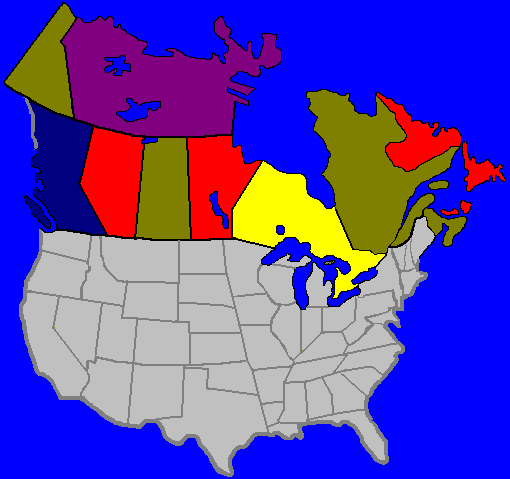 Below is a list of border crossing points into Ontario from the U.S. They are indicated as yellow circles on the map. The border crossings connect to one of three major Ontario highways. The Trans-Canada or #11, which crosses not only Ontario but the country, the 401 highway which runs along the top of Lake Erie and Ontario, and the QEW (Queen Elizabeth Way) which connects the New York crossings to Toronto and the 401 highway.
Town names appearing in Italics indicate the closest large town near the actual border point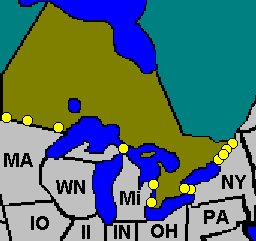 U.S City
Highway access
Canadian City
Major Highway
MINNESOTA
Baudette
72
Rainy River
11
International Falls
53/11
Fort Frances
11
Grand Portage
61
Thunder Bay
61
MICHIGAN
Sault St. Marie
I-75
Sault St. Marie
11
Port Huron
I-94
Sarnia
402
Detroit
I-75
Windsor
401
NEW YORK
Buffalo
I-90
Fort Erie
QEW
Niagara Falls
I-90
Niagara Falls
QEW
Lewiston
I-90
Queenston
401
Cape Vincent
12E
Kingston
401
Alexandria Bay
I-81
Gananoque
401
Ogdensburg
37
Prescott
401
Messina
37
Cornwall
401
You can also visit Ontario Explorer Ontario's only Map-Based Search engine for tourism based activities in the province.
SITE INDEX: [MAIN MENU] [MAP INDEX] [American Visitors] [World Wide Visitors] [Canadian Visitors] [Help]
© M. Colautti 1996-1999, 2000>
Visit the new national site CanExplore
---
ontario scuba diving north america map ontario scuba diving north america map ontario scuba diving north america map ontario scuba diving north america map ontario scuba diving north america map ontario scuba diving north america map ontario scuba diving north america map